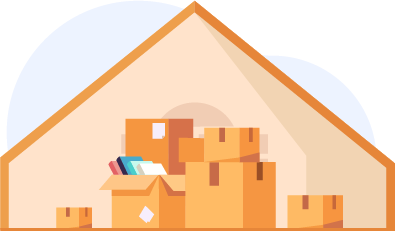 About Our Professional Attic Cleanout Services
At Junk Removal Plus, we offer the best way to remove junk from your attic. Our team will come to your home and carry away everything in the space that you no longer want or need. We'll also dispose of the items responsibly. You'll have a fresh, clean area for valuable items you want to keep for many years. You could even convert your attic into a spare bedroom, home office or studio.
Our attic junk disposal services will prevent you from having to climb those scary steps and handle this dirty, time-consuming task yourself. We'll also eliminate the safety risk posed by trying to carry heavy, bulky items down narrow stairs.
How Our Attic Trash Disposal Services Work
We make it easy to get rid of junk in your attic. Here's how our process works:
Get an upfront price online.
Start by filling out and submitting our online contact form to request a free, guaranteed quote. You won't have to deal with a salesperson showing up at your door to provide an estimate.
Schedule an attic junk haul-away time.
Our professional crew will arrive at your home at a convenient time to handle the attic trash removal and disposal job.
We haul your junk away.
Sit back in your easy chair and watch as we clean out your attic!
Guaranteed upfront prices. Get your quote today.
How Often Should You Clean Out Your Attic?
Consider cleaning out your attic once every six months, especially if you place items there frequently. Even if you don't store items there often, you should still perform regular cleanings. A lack of activity makes the attic more inviting to rodents and other pests that can damage your stored goods and create health hazards for your family. You can also look for potential structural issues during your visits.
How to Clean Out Your Attic?
Before we can clean out your attic, you'll need to decide which items you want to keep or throw away. Start by dividing the attic space into sections. Go through each area and separate the items into piles or stacks. Reorganize the things you want to keep by placing them into labeled storage bins or containers. This process eliminates confusion by letting us know what to haul away when we arrive.