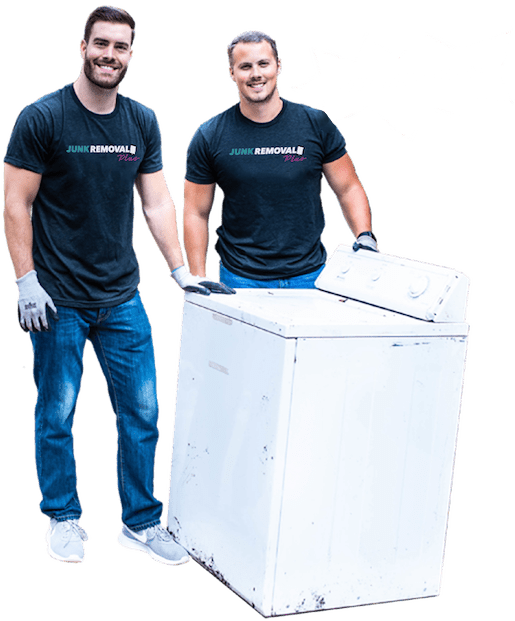 Upfront Pricing for Junk Removal
With Junk Removal Plus, the price of junk removal is always clear. We offer peace of mind through upfront pricing for all services. You'll receive a zero-obligation quote for the item or items you'd like us to remove. Here's how our quoting process works.
Pricing for Specific Items
We'll walk you through our user-friendly quoting process:
Enter your zip code.
Search for the item you'd like us to remove from our dropdown menu.
Select an item to add it to your order and see a price guarantee.
Add more items to see the total removal cost.
Pricing for an Assortment of Items
To receive a quote for bulk junk removal, you'll start by scheduling a 15-minute Zoom call with one of our representatives. Consultation calls are often available on the same day. During your call, you'll show us the bulk items you have so we can develop a removal plan and send a quote to your email inbox.
How Our Service Works
Our booking process is as easy as requesting a price quote, arranging the removal and watching our crew haul your junk away.
Get an upfront price:
Start the process by contacting us online for a free quote. We'll provide you with a guaranteed price covering all our services.
Schedule the removal:
We'll work with you to determine the most convenient time to remove your junk.
We haul it away:
Our professional crew will arrive at your apartment and collect your unwanted items.
Guaranteed upfront prices. Get your quote today.
How Much Is Junk Removal?
Our junk removal prices start as low as $85 per item, making Junk Removal Plus one of the most affordable ways to declutter your home or office. Your price may vary according to the following:
The type of items you want us to remove.
The number of items you want us to remove.
Whether we're picking up your items at the curb or removing them from inside your building.
The number of flights of stairs our contractors must navigate during removal.
Whether or not your items require disassembly before we can remove them.
How Much Is Junk Removal for One Specific Item?
Our junk removal prices vary depending on the item. Large, heavy or bulky items cost more to remove. Our online pricing tool allows you to select items and see how much they'll cost. The tool will also calculate other factors into your quote, like stairs and disassembly. Here are the starting prices for some of the items we remove most often:
Mattresses: $129
Box Springs: $94
Dressers: $114
Recliners: $109
Couches or love seats: $114
Treadmills — residential: $174
A bundle of 10 broken-down cardboard boxes: $104
Does In-Home Junk Removal Cost Extra?
Our contractors are happy to disassemble and remove items from your building, but we offer a discount for curbside pickup. In-home junk removal includes fees for disassembling items and carrying them up or down stairs. You can save on junk removal by leaving your items outside your door for us to collect and haul away.
Get In Touch With Junk Removal Plus
Interested in learning more about our junk removal pricing options? We encourage you to contact us online for more on our rates and pickup processes.