Local appliance recycling to save time & money on new appliances
If you've ever tried to move a stove or refrigerator, you know this can be a tough task to do yourself. Appliances are heavy and can damage not only your property but also your back! The toughest part is appliances that are disposed of incorrectly can be very harmful to the environment and pollute the air in your local community. Appliance pickup and haul away with Junk Removal Plus saves not only your back, but the earth and can be a way to get rid of unwanted appliances quicker too.
Guaranteed upfront prices
Send us a text with pictures of your old appliances and we will send over your upfront, guaranteed quote in minutes.
In-home/ outdoor pickup
Our appliance disposal services near you are made to be easier. We pick up items from anywhere on your property.
We handle heavy lifting
We can help you get rid of anything, from handling kitchen appliance removal to hauling off heavy or specialized appliances like washers and AC Units.
Eco-friendly disposal
After we load your heavy items out of your home or office, we ensure that it gets donated or recycled if possible.
How our appliance removal services work
We make large appliance removal effortless with our quick, easy process. In just three steps, you can quickly, safely and affordably move heavy appliances out of your home.
1. Get a fair quote online
Fill out and submit a contact form online or text our number with a few snapshots of your appliances. We'll give you a free, guaranteed quote that won't change.
2. Schedule a time to have us haul away your appliances
Our team of professionals will come to your home at a time that is convenient for you to handle your appliance removal and recycling project.
3. Sit back and watch us work
Now, all you need to do is get comfortable as we make hauling appliances look easy!
Hassle-free appliance disposal + pickup services near me.
When you book with Junk Removal Plus, you are guaranteed to have a stress-free appliance pickup and eco-friendly disposal service. Our local haulers are trained in safety and are fully insured. We won't touch anything except the appliances you want removed and will be in and out in a flash. Book appliance removal today.
Fridges
Freezers
Microwaves
Dishwashers
Big Furnaces
Large Scales
Stoves & Ovens
Sewing Machines
Wine Coolers
DeHumidifiers
Lawn Mowers
Water Heaters
Air Conditioners
Washers & Dryers
Fireplaces & Pits
Outdoor Grills
Kegerators
Solar Panels
Pizza Ovens
Ice Machines
Coffee Makers
Fans & Heaters
Steam Cleaners
Vacuums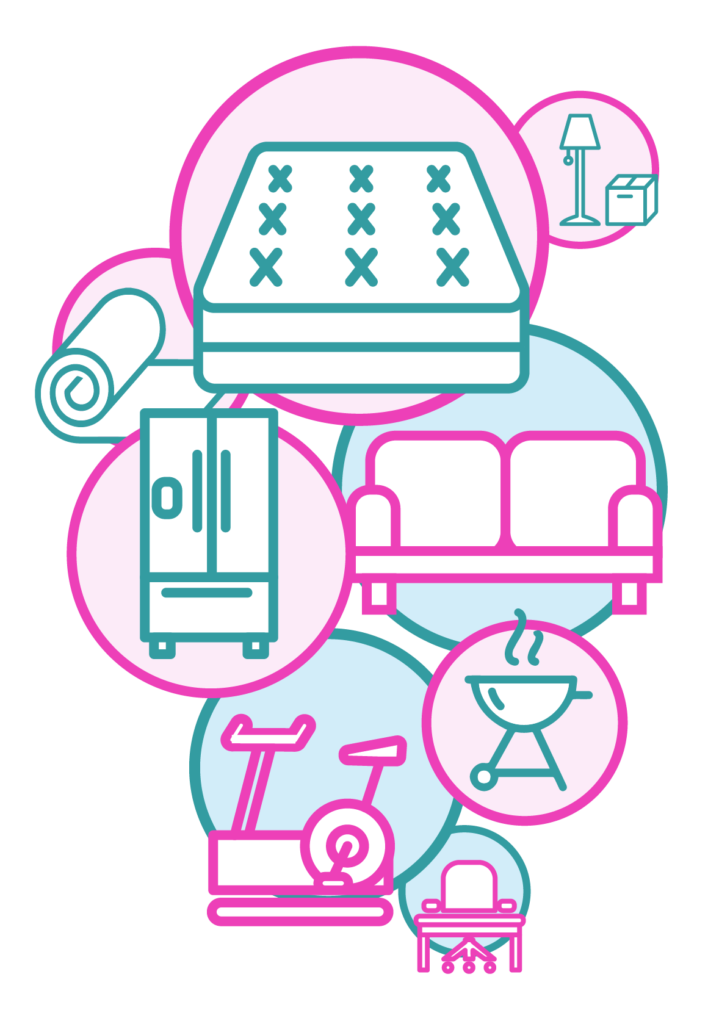 Appliance recycling, donation and disposal
With Junk Removal Plus, you choose how to handle your unwanted appliances, from having us remove a broken washer and dryer to donating a still-working stove. You can clean up clutter by giving back to the planet with eco-friendly recycling rather than sending your scraps to a landfill.
Maybe your appliance is in good condition and you want to give back to your local community. We'll transport your appliance to a local charity for donation so you can help people in need. Our team can also help you to arrange for the eco-disposal of appliances, so you can rest easy that you're disposing of your junk responsibly.
Frequently asked questions
Got questions about appliance removal? The team here at Junk Removal Plus has answers.
Can I recycle my used appliances?
You can recycle most small and large appliances. Your largest items, like a washer, dryer or oven, can be broken down into scrap metal for sale. Appliances like air conditioners require special disposal by a professional because they contain chemicals like Freon. If you tackle the process yourself, you'll also be responsible for safely moving, lifting, loading and transporting your appliances to the scrap yard.
If you want help getting rid of your unwanted appliances, Junk Removal Plus will take the hassle out of your hands and manage the process for you.
Where can I donate my old appliances?
There are a number of credible nationwide charities that will take appliance donations, from Goodwill Industries to The Salvation Army.
These organizations place limits on the quality of the appliances since they must be in good working condition. If one of these charities arrives and they can't accept your donation, there will be a fee for their expenses.
What's the cost of appliance removal?
The typical cost for removing a single appliance, depending on its size, is around $75, while two or three items cost between $127 and $177. The large majority of junk removal companies want to inspect your appliance in person and then decide on a price, so you can end up paying far more for a quote than you originally expected. That's why Junk Removal Plus gives you a locked-in quote upfront when you text us with a snapshot of your appliance.
Snap pic, send text. It's that easy!
Junk Removal Plus is a member of the INC 5000 and always uses 100% vetted contractors who've undergone stringent background checks. You can depend on us to lock in a fair quote and give you the friction-free service you need.
Ready to take the next step? Just text us photos of what needs to go and we'll message you back with an upfront price! You can also book online now to get a free quote for a specific item or a large assortment of junk you need removed.