Out with old furniture, in with the new. We'll help reclaim your space.
When you need to get rid of old furniture, it's not just the where that's the issue. Furniture can be heavy, bulky, or hard to maneuver in tight spaces. It's possible you even need an extra pair of hands or to rent equipment such as a dolly or buy new tools. After getting the unwanted furniture item out of your home or apartment, you still need to donate it or find a way to dispose of it in an eco-friendly way.
Guaranteed upfront prices
Send us a text with pictures of your old furniture and we'll send you an upfront, guaranteed quote in reply. Easy, peasy!
In-home/ outdoor pickup
Our furniture removal service near you are made to be easy. We pickup items from anywhere on your own property.
We handle heavy lifting
We can help you get rid of anything you need removed including large bulky furniture or side tables too.
Eco-friendly disposal
After we load your heavy items out of your home or office, we ensure that it gets donated or recycled if possible.
How our furniture removal services work
Our professional junk removal service takes the guesswork out of getting rid of the old furniture you don't need. Here's how we get the job done:
1. Get a guaranteed quote online
Snap a photo of your furniture and shoot us a text or fill out a form online to get an estimate for the cost of your pickup. There are no strings attached and we guarantee the quote, so you can rest easy that we'll complete the job with no surprises.
2. Schedule a time block 
Our team of professional loaders will show up when it's convenient for you with a scheduled appointment.
3. Sit back and watch the magic happen
You can take it easy while we haul off your junk furniture and dispose of it properly.
Safe + hassle-free furniture disposal + pickup near you.
Our No Contact Junk Removal services allow Junk Removal Plus to ensure the safety of our customers and teams without any direct physical contact. From digital payments to limiting any touching, this way we can haul away only the furniture you need removed and nothing else is touched. It's stress-free furniture removal near you.
Couches
Recliners
Loveseats
Sectionals
Sleeper Sofas
Bedside Tables
Headboards
Nightstands
Chairs
Bunk Beds
Mattresses
Box Springs
Bed Frames
Dressers
Futons
Media Consoles
Cots
Tables
Bookcases
Office Desks
Patio Furniture
Cabinets & Chests
Carpets & Rugs
Rollaway Beds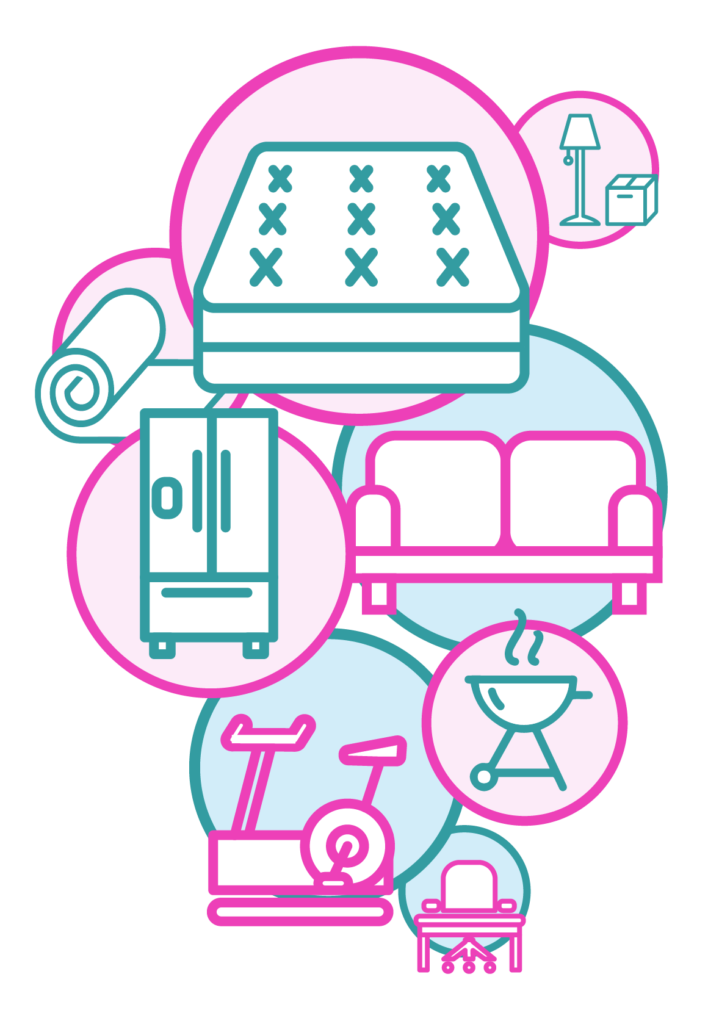 Furniture recycling, donation and disposal
Here at Junk Removal Plus, you're free to choose the way you want to dispose of your furniture. We'll help you clean up your clutter and protect our ecosystem by disposing of recyclable products properly. Our team can also help you give back to your local community by donating furniture in good condition to charitable organizations like Goodwill Industries or The Salvation Army. If your furniture is not in the condition for donation or recycling, we will dispose of it in an eco-friendly way that follows local regulations. 
Frequently asked questions
Have a question you need answered? The Junk Removal Plus team has put together this list of FAQs to help you get started.
Can I recycle my old furniture?
Whether or not you can recycle your used furniture depends on the materials. If the furniture is mostly metal or natural materials like wood and wicker, then there is a specialized recycling facility. Meanwhile, if the furniture material is mostly compressed wood or particle board, it may need a specific disposal method. Typically, couches, desks, bookcases and filing cabinets are recyclable, but it's easiest to let an eco-friendly furniture removal service like Junk Removal Plus get the job done for you.
What's the typical cost for furniture cleanout services?
Junk Removal Plus furniture removal and disposal services typically begin at $80. Your personalized quote will depend on the type of furniture, its weight and your location. We're proud to offer upfront quotes with a guarantee online or over text without an on-site estimate.
Can I leave my furniture on the curb for pickup service?
Absolutely! Maybe you're moving into a new home or just want to do some spring cleaning. Whatever the reason, our professional junk removal service team will pick up your furniture off the curb without requiring a scheduled appointment time.
Snap pic, send text. It's that easy!
With our carefully vetted contractors and convenient service model, Junk Removal Plus is a premium solution to your moving needs. As a member of INC 5000, we place quality at the core of everything we do. You can trust our team to provide a fair quote, so you can just set a pickup date and let us take care of the rest. 
Want an estimate? Text us photos of what needs to go and we'll message you back with an upfront price! You can also book an appointment now for one specific piece of furniture or a large assortment.