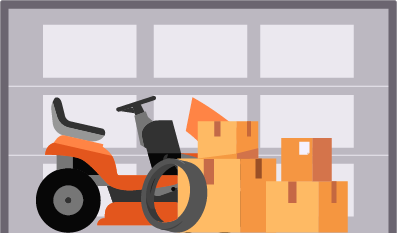 Get Professional Help Cleaning Out Your Garage With Junk Removal Plus
If you're like most people, you don't look forward to spending hours hauling old tires, boxes, broken toys, rags and other items from your garage. Our professional garage junk disposal service eliminates the hassles and the heavy lifting.
Our well-trained crew can handle any garage cleanout job, even if you've been stashing stuff away for decades. Full-area removal projects are our specialty, and we can also pick up individual or select objects. We'll do all the loading and hauling for you and dispose of the items responsibly.
How Our Garage Junk Hauling Service Works
Junk Removal Plus makes it simple to get rid of your garage junk with our straightforward three-step process:
Get an upfront price online:
Start by contacting us online to request a free, no-obligation garage trash hauling service quote. We'll respond promptly with a transparent price — you don't have to worry about surprise charges or hidden fees, and no salesperson will visit your home.
Schedule the garage junk removal:
We'll set up a convenient time to come to your home and do the job. Our crews are punctual and courteous.
We haul it away:
Once we arrive, we'll get right to work and remove all the junk from your garage. We'll do the job quickly and efficiently while minimizing disruptions to your family's lifestyle.
Guaranteed upfront prices. Get your quote today.
How to Clean Out Your Garage
A systematic approach works best when planning to haul away garage junk. You can help the project go more smoothly by dividing the space into sections and organizing the items into "keep" and "discard" piles. Evaluate factors like the object's condition and whether you have any current or future use for it when making your decisions.
Reorganize the items you want to hang onto by placing them in labeled containers. You could even install shelving for more convenient storage. We'll know exactly what to take when we arrive!
What Do We Take From Garages?
Our garage junk removal service encompasses these items and many others:
Automobile tires
Household appliances
Lumber
Old tools
Broken toys
Boxes and bags filled with unwanted objects
Scrap metal
Sports equipment
Lawn furniture
Old clothing
Contact Us Today to Haul Garage Trash Away
Junk Removal Plus offers the best way to remove junk from your garage. We're a fully licensed and insured company you can trust, and we serve homeowners in all 50 states.
Take the first step toward reclaiming your garage space and removing unwanted junk. Contact us for a free online quote today.