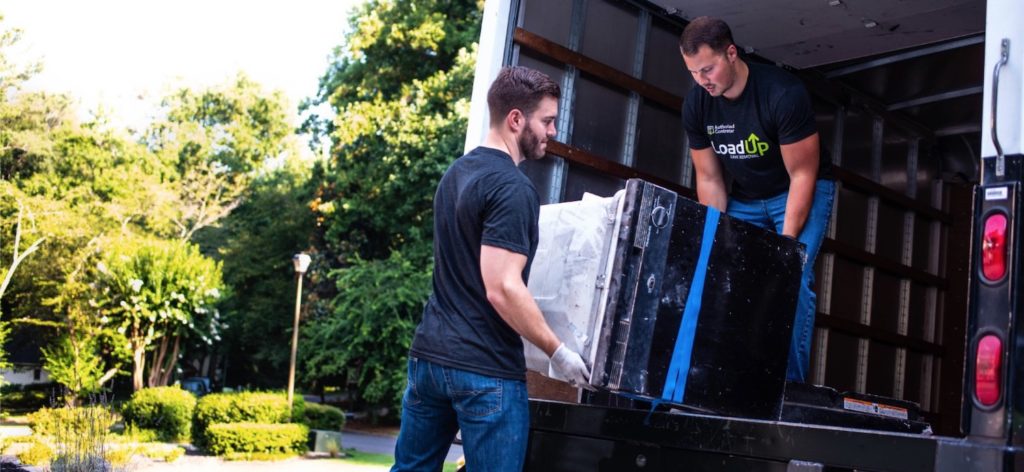 When you are looking for how to calculate debris removal costs in your area, you've come to the right place. Junk removal costs around $200 on average with a typical range between $89 and $350. A full truckload typically runs $400 to $800. The minimum for a single item costs between $60 and $150.
Maybe you've had an old box spring just waiting in your garage for a few weeks or maybe you haven't been able to step into the garage in years! You keep saying you are going to "borrow your friend's truck," but let's face it… He doesn't need that extra 6-pack you're offering.
You've probably even done a quick internet search to find the closest disposal site near you. Once you check the hours, you resolve to take that first step in decluttering on your next day off. Yet, every Sunday morning that rolls around, you put it off for another week, and the cycle repeats itself.
After that old box spring in the garage collects enough dust, you start to wonder things like, "what are my other options?" and "how much is junk removal?"
Luckily, you can find junk removal services online, about as easily as having food delivered to your house or getting a ride somewhere. The only difference being, it can be a bit more difficult finding pricing for some junk removal services. You're not always quite sure how much you'll be spending. You may even get caught in a loop of phone tag while getting different price quotes, or have someone come to your house and give you an estimate on the spot.
So, you've decided to do a little research ahead of time, and determine a ballpark figure of what you can expect to pay.
Table of Contents
*Click to Auto-Scroll
How Much Does Junk Removal Cost?
If you've read this far, you're smart enough to be on the hunt for a junk removal service with transparent pricing. You're in the right place! Junk Removal Plus wants you to know what you're getting into ahead of time.
With prices 20 to 30 percent lower than the national average of junk removal services, a set price of $85 and up, and discounted text ahead price quotes, Junk Removal Plus is a service that isn't going to play games with you or your junk.
So, let's break down what goes into a junk removal price estimate.
Factors That Go Into Junk Removal Cost
Your price estimate will always be based on a combination of factors like quantity, size, weight, and location (aka, how difficult it is to move your stuff)!
1) The Number of Junk Items Needing Removal
As with any junk removal service, the more items that need moving, the higher the price will be. The difference between most junk removal services and Junk Removal Plus will be that you're not paying for the mass area that these items take up in the truck.
Many companies will even charge a starting fee of $150 or up, so you could end up paying as much to have two small items removed as you would for one large item! Junk Removal Plus begins the pricing at $89 and is happy to pick up individual (big or small) items.
2) The Size of Junk Items Needing Removal
Pricing for Junk Removal Plus is all about giving you the best price possible while taking care of our junk haulers. The more difficult it would be for you to move, the more it will most likely cost. Lifting bulkier items will usually need two or more people from our team.
To circumnavigate any uncertainty of how heavy your item might be, our team accepts texted pictures, to help calculate the cost. When texting ahead for a quote from Junk Removal Plus, you receive a 5% discount on the total cost.
3) The Location of Junk Items Needing Removal in Your Home
Transporting large junk items through narrow halls and flights of stairs requires skill and teamwork. Bulky furniture may not fit as easily through tight doors or hallways. Some companies will charge an additional fee for a disassembly service.
Giving a Junk Removal Plus team member these details, over the phone or email, can help give you the most accurate estimate possible ahead of time.
Is Junk Removal Expensive?
When you compare the time and money that it will take to DIY your junk removal, it doesn't all add up.
You will need to rent or borrow a truck, locate a disposal site, there will be a strain that is put on yourself and your loved ones to lift heavy objects, and potential damage could be caused to your floors and walls. You may not be accustomed to driving a truck, you may need to pay a fee to use your local dump, and you and your loved ones may not be professional heavy lifters. It can often be more cost-efficient and time-efficient to bring in professionals.
Just because you could do it yourself, does not mean that you should or that it will be a good time. And who doesn't value their time?
To answer the question, professional junk removal is relatively inexpensive. It's definitely preferred to the alternative, DIY, method.
Why Pay For Junk Removal?
We've established that the time, labor, and skill that goes into junk removal should all go into your final decision. However, choosing the right junk removal service offers you value beyond the price tag. From helping the planet stay green and reducing unnecessary landfill waste to supporting the community through charitable contributions, booking junk removal means more than simply decluttering.
Make the Eco-Friendly Choice
Not only is Junk Removal Plus budget-friendly, but it's also eco-friendly! Many junk removal services will take their truck straight to the local dump or land-fill. It's important to choose a service that is conscious of green, recycling best practices.
No Contact Service
If you prefer to have a safe, touch-less pickup, we encourage you to utilize our no contact service. No one will enter your home. Simply let a team member know ahead of time and place your unwanted items outside on the day of pick-up.
Junk Removal Services Near Me
Junk removal plus is nationwide! Check out this list of locations. If you are within a 50-mile radius of any of the listed locations then you're in luck! We will come to you. Text today to get your quote ahead of time and save 5% off your total.