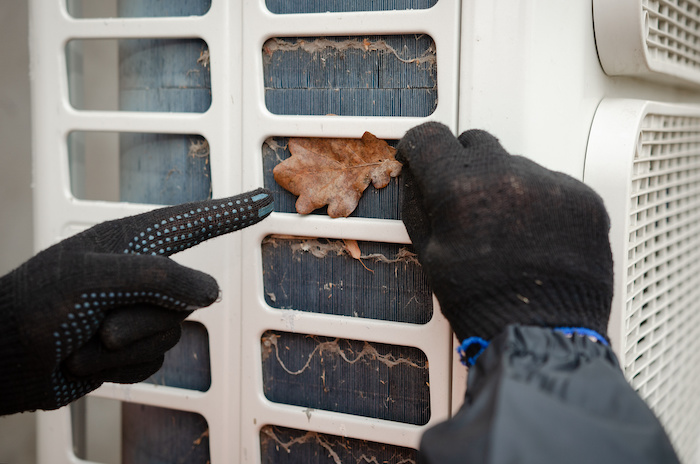 Changing seasons means changing air filters. What do you do with the excess debris?
Fall means the return of changing leaves and pumpkin spice everything. It also means it's time to handle those chores that no one really wants wants to do but can't be ignored, like changing your air filters. Have you turned your HVAC unit on to the heat setting yet? You may have noticed that dust and almost a burning smell coming from your vents.
There's a good chance that you haven't changed your air filter in a while. The fall and the other season changes can be an excellent time to handle these seasonal chores. Learn more about your air filter, why you should change it, and how you'll handle any of the excess debris and junk you may have afterward.
Guide to air filters and debris.
**Click to auto-scroll by section
How often should I change my air filter?
Your air filter should be changed at least once or twice a year. Typically, they should be changed during the spring and fall months to prepare your HVAC system for the upcoming season. People who have pets, live in an area where they may see increased dust, such as by highways or new construction, or have high traffic in their homes should consider changing their filters more often.
If you haven't had your air filter changed in a while, it's possible that you may also need to clean your ductwork, around your vents, and other areas to help your furnace work better for the cold weather.
Some filters will note the size somewhere. In circumstances when it doesn't, you'll want to measure it yourself. Be sure to take all of the measurements. You'll want the length of the sides, as well as the thickness of the filter. It's easy to forget the thickness, but it's smart to get the right fit for your unit.
Once you have the right filter, you can pull the old one out of the system and place the new one in the slot like the old one was in the space. Filters are created in a specific way because of the direction of airflow in the system. Putting it in the wrong way can cause problems and result in your HVAC unit not functioning correctly.
For filters that need to be cleaned, you'll want to take some time and ensure that it's cleaned thoroughly. It would be best to start by brushing the filter off to remove large clumps of debris and dirt from the surface. Once you've done that, you can get a deeper clean by vacuuming the filter.
You'll want to use a soft brush attachment for this process not to allow the vacuum to damage your filter. While these filters can be replaced, they are often more expensive and more complicated to find than the filters that are supposed to be regularly disposed of instead of being cleaned.
Once that's done, you'll then want to run water through the filter going in the opposite direction of the airflow to remove any dirt and debris stuck inside of the filter. Finally, be sure to let your filter completely dry before replacing it back into the HVAC system.
Another thing you should be aware of when it comes to changing or cleaning your air filters this fall is whether or not you have more than one filter. Some systems have more than one filter in them, and you'll want to make sure that you get all of the filters replaced or cleaned, or you won't see all of the benefits that come from taking care of your filter.
Why should I change my air filter?
You may be thinking that it's not worth your time to go through these steps to change or clean your air filter. Think of all of the systems in your home. They can be seen to be very similar to the systems in your body. Imagine how you feel when your lungs, nose, and throat are dealing with congestion from a cold or flu.
That's precisely what it can be like for your HVAC system when the air filter is never replaced. Your furnace has to work harder when the air filter is clogged up with dirt and gunk. When your furnace has to work harder, it's no longer efficient and may run longer and harder than it did before.
This state of constantly having to work harder and longer can result in higher energy bills during the fall and winter months. It can also age your furnace quicker than it usually would and cause you to need to repair or replace it more often than if you performed preventive maintenance.
Another reason to change your air filter is that not only does it impact the health of your HVAC system, but your health, as well. It's not suitable for your system to be breathing in the dust and debris that get circulated in your home every time your heater kicks on during the winter months.
With your windows closed, it just goes back into the system to happen over and over again. Cleaning your filter allows the filters to do their job in stopping the dust and gunk from being pushed out of the vents with the airflow.
Your indoor air quality can suffer in the winter months as your windows are closed. Your filters help air quality. Anyone that has asthma and other respiratory disorders can benefit from cleaner air in your home.
Need help hauling off the excess debris?
Once you've finished replacing or cleaning your air filter, you may find that you have more debris piled up than you expected. You may have decided to clean around the furnace to get to it or around your air conditioner to get it winterized for the coming weather.
What should you do with this excess debris? You could handle it like you handle your regular trash and put it all out on the curb, but what if you have a lot of things to get rid of after cleaning? No one wants to deal with carrying everything out.
Then, there are always the rules for your bulk pickup in your area. What if you're going to get rid of your old exercise equipment or furniture that was blocking the way to your furnace that you realize you don't want anymore?
Rather than pulling and pushing it all to the curb in the hope of your bulk pickup day coming, you can count on Junk Removal Plus.
🤔 Curious where we offer our services? Find your area here!
Junk Removal Plus has your air filter debris removal needs covered.
Junk Removal Plus can handle everything and anything that you need to have removed after you finish with your air filters. Dirt, leaves, old filters, cardboard boxes, scrap wood, unwanted furniture, no longer used exercise equipment, and more can be removed by our local Loader crews.
Need help with furniture? What about appliances? LEARN MORE ❯
Did you already bag up your air filter debris? That's great as it can net you a discount when we come to handle your pickup. Simply book online or text to get an upfront and honest quote on your air filter debris removal. Get back to enjoying clean air, good health and a junk-free home!