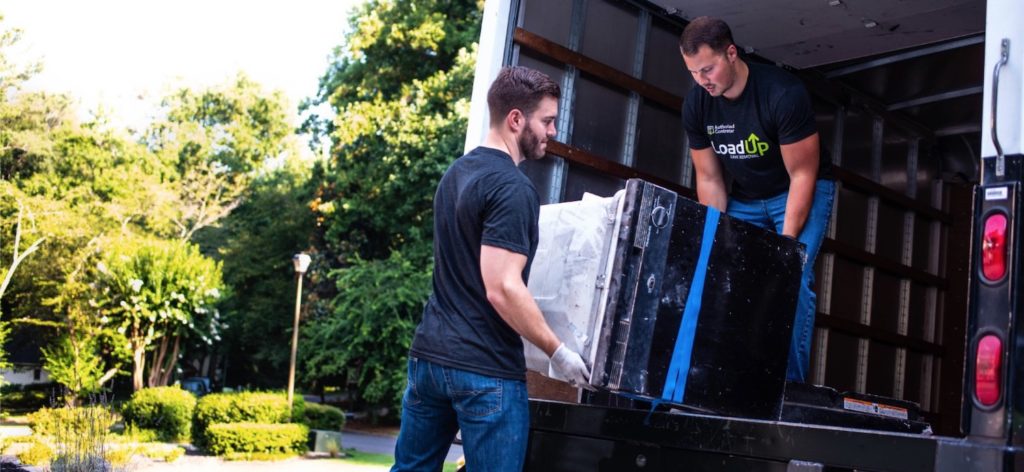 Wondering how to get rid of unwanted items? Trying to dispose of household junk is a notoriously huge hassle. If you've got an enormous amount of clutter or maybe large pieces of furniture or appliances, moving it out by yourself might even be impossible. We all like saving money, but it's not worth your while to spend the whole day struggling with dusty boxes or potentially injuring yourself with heavy lifting. Luckily, there are affordable and convenient junk removal services in every part of the country.
Table of Contents
*Click to Auto-Scroll by section.
When Do You Need Junk Removal?
Some of the most common moments when you need junk removal are redecorating or renovating, relocating, or just decluttering. As you look at the items you want to get rid of, consider whether they are in good working order. If they are, there's no need to consider them junk. In fact, you can donate them to charities. If they won't pick up your items, you might want to find a service that will.
Contact a junk removal service whether or not your items are in good working order. The junk removal service will come to your home, haul out the junk, and transport it for disposal. In most cases, a junk removal company will bring your junk directly to a landfill. Junk Removal Plus is different. It carefully evaluates your items, seeing if any of them can be recycled or donated.
Remember the Environment
Junk Removal Plus knows that "junk" isn't always junk. Environmentally conscious junk removers like Junk Removal Plus, go the extra mile. They check to see whether any of your items can be recycled or if it can be donated to charity before throwing them away. Another advantage of eco-friendly services is that they generally accept appliances and electronics that require safe handling and recycling.
Keeping the environment in mind when choosing a junk removal service is essential if you want to prevent unnecessary adding to already overflowing landfills. Appropriate junk disposal, which includes recycling and donating whenever possible, is also necessary to cut down on plastic items getting into the oceans and excessive energy consumption.
How to Book Junk Removal
The booking process will depend on which junk removal company you choose. If you go with Junk Removal Plus, you'll:
1. Send a text.
First, you just text Junk Removal Plus a picture of the junk you want hauled away. The number is (678) 884-4738.
After Junk Removal Plus gets the picture of your unwanted item, they'll review it and come up with a quote. They'll then send you an instant SMS price quote.
3. Junk Removal Plus will remove your items.
Once you've set a date and time, Junk Removal Plus will come over to haul away the item or items. You won't have to do any heavy lifting. Junk Removal Plus is there to do all the work.
How Do I Pay for Junk Removal?
There are two different ways to pay for junk removal with Junk Removal Plus. If you'd like a 5% discount, pay upfront immediately after agreeing to the quote. You do this electronically. If you would rather wait to pay after your junk is removed, you'll pay the full quoted price. Junk Removal Plus accepts major credit cards for payment. It's a simple and easy process.
Remember when you pay for junk removal, this should cover all the costs involved. This includes labor and disposal or recycling fees. Even if you try to go with what seems the cheapest route and haul things out yourself, you'll end up paying those fees. Is trying that really worth your while? If you're like most people, the answer is most definitely not.
What Kinds of Items Can Be Hauled Away?
You can have large unwanted items or boxes of small items hauled out and removed from your home. Some examples of items junk removal companies often remove include:
Furniture, such as old couches and recliners, tables and chairs, desks, and dressers
Mattresses and box springs, including memory foam mattresses, spring mattresses, mattress toppers, as well as footboards and headboards
Home electronics, such as stereo systems, computers, televisions, gaming systems, and smart home appliances
Appliances, including washers and dryers, water heaters, ovens and stoves, dishwashers, and refrigerators
Exercise equipment, such as weight benches, exercise bikes, treadmills, Pilates machines, home gyms, and ellipticals
Recreational items, such as pianos, trampolines, hot tubs, and basketball goals
Miscellaneous bulky items, such as gun safes, carpeting or cardboard boxes
The cost of removing your items will depend on the number of items, as well as the kinds of items you're having removed. Junk hauls vary from just one item to enough items to fill an entire truck. Like other junk removal services, Junk Removal Plus cannot handle or take hazardous waste.
Why Choose a Web-Based Junk Removal Company?
With pretty much everything else we do in our daily lives, online is the way to go. A web-based junk removal company lets you get everything set up with a few clicks. And then all you have to do is let the pros do the work. If you're ever confused about how to get rid of old junk, look no further than a top-notch junk removal company.
Choose a trustworthy and dependable junk removal service. Junk Removal Plus guarantees friendly and attentive service from all its thoroughly vetted independent contractors.
So, What are You Waiting For?
It's finally time to get rid of that old couch. You know what we're talking about. That ancient sofa has been getting on your last nerve for ages. See it vanish in a flash with a quick visit from Junk Removal Plus.