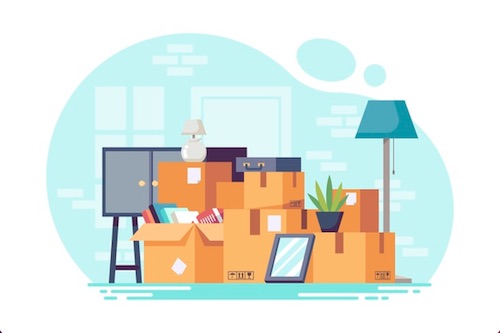 When unwanted belongings are heavy, bulky, and difficult to get rid of alone, junk removal companies and professionals, or "junk removalists," can haul them away for safe disposal solutions like donation, recycling, and green disposal near you, for you.
While "junk removalists" isn't a proper term, it's a condensed version of "junk removal specialists," or simply a new way to describe someone who hauls junk away.
If your regular curbside waste management company doesn't remove and dispose of items like large appliances, junk removal specialists help solve problems of clutter, heavy hauling, disposal and can even save you a literal truck load of problems!
However, not all individuals that call themselves "junk removalists" provide the service the same way, and definitely not all for the same price.
Who are Junk Removalists?
Junk removalists handle all the heavy lifting, hauling, and safe disposal of all the other junk that your local municipal waste management service may not accept with your regular trash or recycling bins.
Some cities may offer curbside bulk item pickup services for these items but require you to haul the heavy item outside yourself. Also, these "bulky item pickup days" often only occur once or twice a year, so save time and stress by finding a quality junk removal company.
Depending on your location, junk removal services near you can vary. From a mega-junk hauling franchise to your friendly neighborhood hauler whose truck is used for everything from landscaping to moving to junk removal, knowing who is hauling your junk makes a difference.
Types of junk removal companies:
Junk franchises only offering on-site estimates
Junk companies with contracted independent haulers
Local, individual companies or independent contractors
Junk franchises, like 1-800GOTjunk and College Hunks Hauling Junk, are companies that focus on growing through franchising. These companies work a lot like a standard corporation where their employees are hired to fill specific roles, including junk removalists and sales roles that provide on-site estimates.
Professional junk companies with contracted independent haulers, such as Junk Removal Plus and LoadUp, connect customers with background checked and fully insured professionals that are sourced from your area to remove and safely dispose of all unwanted items, with the option of receiving a price before booking.
By following this "Uber-like" model, companies with independent haulers have lower costs so prices are typically 20-30% less than those on the franchise model. Junk removalists dealing with franchising fees and their own pockets being invested factors into the cost and tends to raise prices.
Local or individual companies that you may find when searching "junk removalists near me" vary. They may be a completely independent company, a side-hustle, or operating similarly to the franchise model.
How Junk Removal Services Work
When you choose a junk removal service, the booking process holds the biggest difference; you will either have to schedule an on-site estimate appointment or will pay an upfront price online while scheduling a pickup.
Once that's done, your junk removal team should arrive prepared to haul all of your unwanted items from ground to truck, no matter where they are on the premises.
How much do junk removalists cost?
The lowest average cost of service is $100 for a typical one or two-item job due to minimum fees. While LoadUp and Junk Removal Plus offer prices by item, most junk removalists charge based on volume or how much room your junk took up.
Most large franchises require your pile of junk to fill the truck to a certain level. This means if you need one or two items picked up, the minimum charge may be overpriced for the help you need.
Another thing to consider is the disposal expenses. If you live in a zip code that's hard to reach or far from a disposal facility, that will likely affect your price.
With all those conditions met and depending on the quality of service, your junk removal price may vary from one item pickups as low as $100 and other pickups costing as much as $2,250 for a heavy-duty job.
How On-Site Estimates Work
With companies operating through on-site estimates, you first schedule a "free estimate appointment" where their team of junk removalists arrives at your location to size up the job. That is when you will be provided with an itemized cost of their labor and will be given a chance to approve the cost before they start with the heavy lifting.
Whether you accept their price or not is up to you, however, you may encounter some haggling tactics to try and get you to choose their service over the other guys, especially if the helper is part of a franchise and has overhead expenses to worry about.
How Upfront Pricing Works
While most junk services operate by offering "on-site estimates," newer junk services have updated the model by offering upfront pricing instead.
Companies like LoadUp and Junk Removal Plus offer more than just one way to pay for service.
With Junk Removal Plus, you can choose either to pay when you book your pickup through an upfront price or pay later through the on-site estimate model. It's as simple as texting a pic to get a quote. No obligations, hidden fees, or surprise charges.
With local contractors, the overall price ends up being typically 20-30% less than others, plus, if you get your free quote with Junk Removal Plus through text, you'll receive an additional 5% off your order.
As you can tell, depending on if you're more comfortable haggling prices or getting upfront quotes, you have options for getting rid of unwanted items.
What items do junk removalists accept?
Have too much renovation debris for your curb? Is your home or business crowded with broken appliances that need to go ASAP? Or did you move with tons of cardboard boxes and realize you don't even want half of your furniture anymore?
Junk removal companies work to make cleaning up, decluttering, and downsizing no matter the item completely hassle-free. Everything from old refrigerators, televisions, torn carpeting, couches, treadmills and just about anything else.
Popular items that junk removalists can haul away for you include:
Mattresses
Appliances
Electronics
Dressers
BBQ Grills
Bulky Junk
Lawn Mowers
Office Junk Items
Exercise Equipment
Household Junk Items
How do junk removalists dispose of junk?
Once junk removalists pick up your unwanted junk, items in good working condition are typically donated to a charity. If they're not accepted for donations, the parts are taken to be recycled when possible and the rest is otherwise properly disposed of.
However, bear in mind that not all junk removalists take care to recycle or donate, and even fewer spend the time to build relationships with local charities to increase the chances of providing the community with the right donations.
When you need to get rid of junk, feel free to ask what they do with the junk and if there are any initiatives they are a part of that help your local community thrive. Industry-changing junk removal companies like Junk Removal Plus push their service to go beyond junk removal by donating 1% of every junk removal job we do to help fight breast cancer.
While you have many options when it comes to junk disposal, try to choose a junk removal specialist that chooses eco-friendly disposal solutions and contributes to your community.
Who are the Best Junk Removalists?
Junk removalists are the go-to solution for getting rid of bulky items like mattresses, appliances, and other furniture that typically aren't picked up at the curb.
Junk Removal Plus is the reliable company that makes sure you and your junk are 100% in safe hands by only working with junk removalists that are:
Licensed & Insured
Background Checked
Eco-friendly Professionals
By knowing a reliable and affordable junk removal specialist near you, you'll always be able to keep your place in check without all of the heavy lifting and hard work. For fast, easy, and affordable junk removalists, call on Junk Removal Plus today.